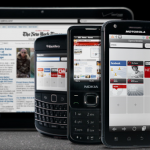 I've been using Opera Mini mobile browser since 2006. I first used the version 3.x on my Nokia 6230 using WAP connection. At the time, with such a slow internet connection provided through WAP, Opera Mini constituted a big difference from the default Nokia browser. The Opera Mini never stopped to please by updating to release 4.0 then changing my phone twice to use version 5 on my Nokia E71. The version 5 was fast with tabbed browsing. I loved it and it made my life really easier with the ability to open a link in new tab.
1 day ago I got notified that a new version of opera mini has been released. I downloaded it and installed it. It was version 6 and it made me feel great. The application was pretty much faster to launch than its predecessor and internet browsing is even faster.Opera provides the fastest web experience for mobile phones and it keeps getting better.
The opera rendering engine displays complete webpages, just like on your computer, and is fully standards compliant. The rendering engine and server-side compression allows the Opera browser to load webpages much more quickly than other mobile phone browsers. The Opera Mini browser uses only a tenth of the bandwidth of other browsers, compressing webpages by up to 90%.
Opera mini has lot of features. It let's you store your bookmarks online and sync them between multiple devices. It has advanced bookmarks management and it gives you the ability to save pages to be read offline. With the new version of Opera mini you can now also manage your downloads: Start downloading files and keep track of their progress from Downloads. You can pause downloads, when necessary, and resume them when it is convenient.
I love this browser, it makes my life really easier when browsing the web from my mobile phone!